Please note:
Longshaw Infant School is now closed for the half term holiday.
We will re-open for Critical Workers and Vulnerable children on
June 1st at 8.30am.
Please note that school will be open from:
8.30am to 3pm Monday to Thursday
8.30am to 12.30pm Friday.
We have taken the difficult decision to close on Friday afternoons until summer, so that we can implement a deep clean across school every week.
Key worker's and vulnerable children will enter school on that day via the Year 2 door on the playground. Please observe social distancing guidelines as you wait.
Further information about the proposed wider opening of school for Reception and Year 1 children will be placed on here during the week beginning 1st June.
Whilst the schools are closed you can contact
Longshaw Infant School
or
Longshaw Nursery School

on the following telephone numbers

01254 260534
07901063509
Plans for a Phased Re-opening of
Longshaw Nursery, Infant and Junior Schools
We hope that you and your families remain well during this challenging time. We would like to thank you for your patience and perseverance in caring for your children at home for such an extended period. Below are some details of our plans for the re-opening of all three schools over the next few weeks.
Recently the Prime Minister announced proposals for the re-opening of schools to some children from June 1st, if it is deemed safe to do so. As you may have seen in the Lancashire Evening Telegraph, Blackburn with Darwen Local Authority has produced a local plan for the phased re-opening of schools in the borough. This plan states:
'As a borough we are supportive of proposals to extend opening of schools as soon as it is safe to do so, however;
Public health is our first priority in all considerations concerning the further extension of school opening

We are not yet satisfied that all of the Governments five tests, identified as prerequisites for easing of lockdown measures, have been met.

We are adopting a cautious approach to the extended opening of schools, based on a regular review of the emerging evidence and guidance

The earliest date we therefore, feel able to prepare for extended opening of schools in Blackburn with Darwen is 8th June.

This date is subject to satisfactory progress being made against each of the Governments five tests, we will review the proposal date on a weekly basis.
When will my child return to school?
The local authority's plan means that, providing scientific evidence supports it,
A phased return of Nursery and Reception children will begin on Monday 8th June,
A phased return of Year 1 children will begin on Monday, 15th June,
A Phased return of Year 6 children will begin on Monday 22nd
It is not yet decided when other year groups will return but ideally all children will be back at school as soon as it is safe for them to be there and social distancing measures can be implemented. We will send details of how children will return (staggered start and finishing times, social distancing measures etc.) in future notifications.
While the government is encouraging all children to attend school the final decision rests with you. We know it is a difficult decision to make and there is no right or wrong answer. Our primary objective, as always, is to ensure the safety of all children and adults who attend school. We will do everything in our power to reduce the risks to children and staff posed by COVID 19 however we recognise that even with careful social distancing routines we cannot eliminate them therefore we will contact you before the phased return of each year group to ascertain if you will require a place for your child.
School closure during the week commencing 25th May.
As you know, since schools closed on March 22nd all three Longshaw schools have remained open for the children of key workers and for those deemed 'vulnerable.' This continued throughout the normal Easter holiday period and the subsequent bank holiday. In order to recognise the work of staff over this period and to allow for dedicated time to prepare the buildings for the necessary safety measures, the Longshaw schools will be closed to all children for the week beginning Monday 25th May.
Key workers' children and children deemed 'vulnerable.'
Please note that children in these categories who have been attending school over the past few weeks will be able to continue to do so from Monday 1st June. From that date children in Nursery will return to the Nursery School and children in years 3 to 6 will be cared for at Longshaw Community Junior School.
We understand that there is a lot of information to take in and some of you may have questions and concerns. Please contact Mrs Batley at Longshaw Community Infants School (01254 260534) or Mr. Hawthornthwaite at Longshaw Community Junior School (07955 823 958) if you would like to discuss these matters further.
We would like to again express our appreciation for your patience and our gratitude to those of you who have supported your children in engaging with the home learning they have been set. We hope you remain safe and that we can all return to normality as quickly as possible.
Best wishes
Mr. Hawthorthwaite Mrs. Batley
Government Announcement Regarding June Opening
I am sure that many of you watched the Government broadcast about schools re-opening last night and now have many questions. Please be assured that we all want a return to normality as soon as possible however until we can reassure parents, children and staff that it is safe to return things will remain the same. Therefore currently we will only be open to the key worker or vulnerable children that have been here over the last few weeks.
With regard to reopening school for Reception and Year 1 children and implementing social distancing for children as young as 4, as discussed in the announcement last night, please be aware that this will take a great deal of planning and organisation. You will all be aware of how quickly head lice or chicken pox spreads across a school and, as we have been led to believe that Covid 19 is extremely contagious, I will be seeking scientific reassurance that opening school again will not put your children or my staff's health and wellbeing at risk.
Our school is a sad place without the children who are its life blood and all the adults who work in the school are missing them. I recognise that many of you are finding home educating to be a challenge and are worried about your children falling behind. I recognise these worries and want to reassure you that everyone wants a return to 'normal' as soon as possible. I feel strongly however that opening the door to 180 children presents an unacceptable risk and I am not willing to take that risk with your precious children unless I have the evidence to prove that they are safe.
I am working with colleagues from the Local Authority and other schools to identify ways which we can welcome children back into the building safely and will obviously update you as and when we have done this.
Please don't hesitate to contact me if you want further information.
I hope you understand and support my position.
Kind regards
Mrs Batley
We're really excited to invite you to get involved in a special #YVatHome project over the next few weeks!

Young Voices, the current Guinness World Record holders for the world's largest simultaneous sing are staging the the World's Largest Children's Choir at Home for a record breaking #PowerInMe Singing Challenge and dedicate it to all our teachers.

On 2nd June 2020 - you are invited along with families and children from across the world to pay tribute to all teachers by joining together to sing "The Power in Me" from the safety of your own homes.

You can register your involvement at youngvoices.co.uk/powerinme to access learning resources for the song.

In the weeks leading up to the main event on 2nd June, you are encouraged to take part in the #PowerInMe singing challenge and to film yourselves singing the song's lyrics "I've got the Power In Me" and post it online with the hashtag to see who responds completing the song's chorus "You've got the Power in You!".

It is all explained here by David Lawrence and Francisco Nunez.

There are also a series of online workshops to prepare you for the big day:

Tuesday 12th May 4pm UK/11am EST - 'Conductor Swap' - David Lawrence runs an online rehearsal/workshop for children in the US
Thursday 14th May 4pm UK/11am EST - Rebecca Lawrence interviewed by Gigi Morley on being a composer and composing the Power in Me
Tuesday 19th May 4pm UK/11am EST - 'Conductor Swap' - Francisco Nunez runs an online rehearsal/workshop for children in the UK
Thursday 21st May 4pm UK/11am EST - Andy Instone will run a live movement session to teach the moves for Power in Me for everyone who has signed up

Have you got the power in you? Get involved!


I hope you and your families are well through these difficult times. We continue to follow Government guidelines regarding closure of the school however please be assured that we hope to open as soon as the Government inform us that it is safe to begin a phased return.
The children in school observed the 2 minute silence to commemorate VE day today. I hope you and your families managed to celebrate safely.
Please note that we are aware of some issues with the Free School Meals vouchers. Unfortunately this Government Scheme has proved problematic and we have no control over when the vouchers are actually sent into email accounts. If you are struggling financially due to these issues please contact school and we will arrange for a packed lunch to be made for your children until they are resolved.
ALL TEACHERS ARE NOW UPLOADING DAILY PHONICS AND MATHS LESSONS ALONG WITH IDEAS FOR LEARNING IN OTHER SUBJECTS.
THESE WILL HELP YOU TO LEARN WHILST YOU ARE AT HOME.
PLEASE LOG IN TO YOUR CLASSES SEESAW PAGE USING YOUR CODE TO CONTINUE LEARNING AT HOME.
PLEASE CONTACT SCHOOL IF YOU NEED REMINDING OF YOUR CODE - office@longshawinfant.blackburn.sch.uk
TEACHERS ARE MONITORING WHO IS ACCESSING LEARNING EVERY DAY.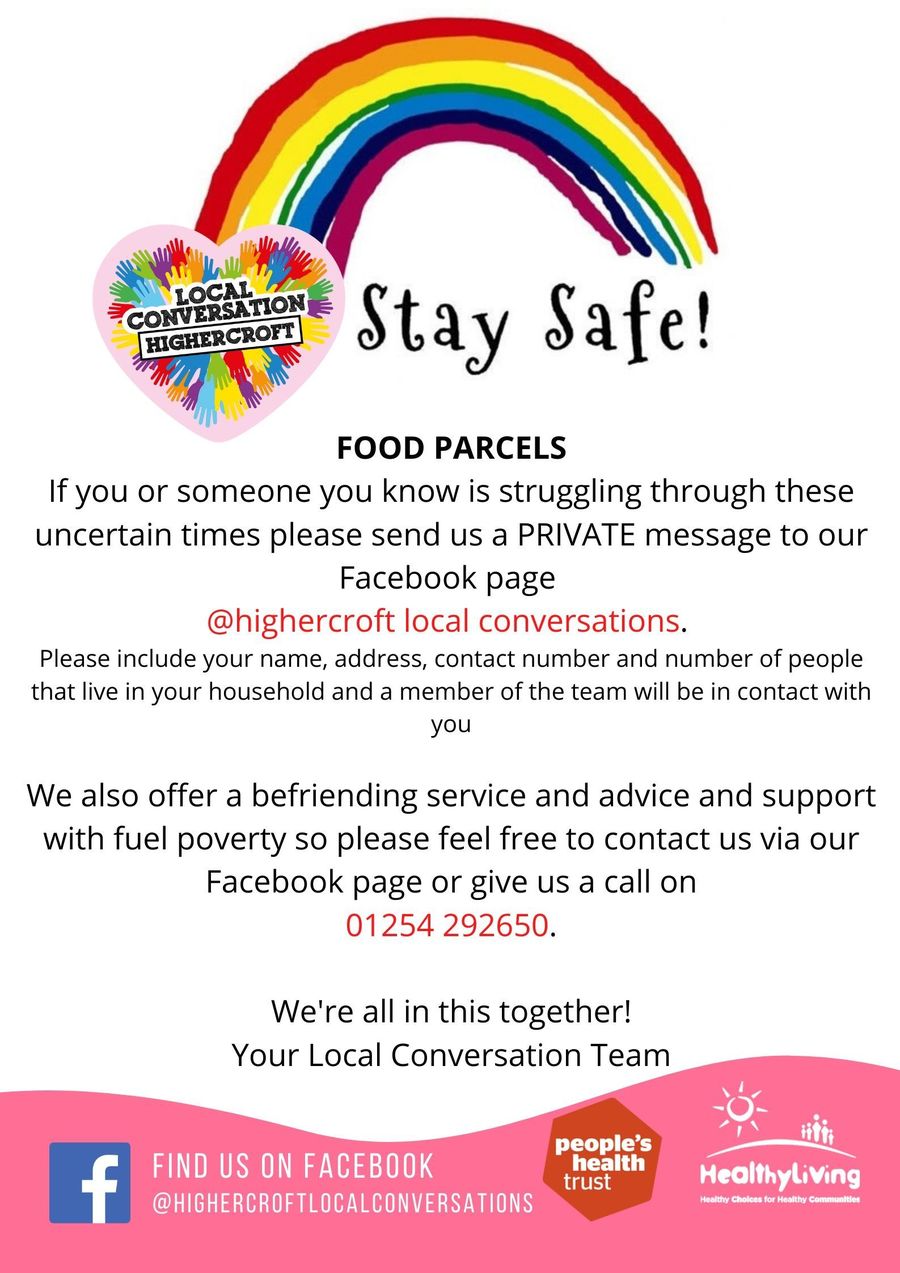 Please note:
Whilst the schools are closed you can contact Longshaw Infant School
or
Longshaw Nursery School
on the following telephone numbers
01254 260534
07901063509
Help Hub contacts
The Blackburn with Darwen Help Hub is here to help the local community who may need some support, this can be help with accessing food and other essential supplies to help get through these challenging times. There will also be staff and volunteers who can make phone calls to check on people to keep their spirits up while isolating at home. People can get in touch with the Help Hub by calling 01254 588111.
Please keep updated on the latest via The Shuttle and www.blackburn.gov.uk.
Let me introduce you to ELMORE. Elmore is the mascot for ELHT&Me, East Lancashire Hospital NHS Trust official charity. East Lancashire Hospital NHS Trust is seen as the beating heart of our wonderful and diverse community. We have over 8,000 staff working across five hospital sites as well as providing community services across East Lancashire and Blackburn with Darwen. We are all working together to make sure our extended hospital family can continue to care for yours, including ELMORE.
Normally ELMORE can be seen out and about at our hospitals, but like everyone else he staying indoors to help his dedicated friends during these exceptional times. As a show of appreciation for our NHS heroes, ELMORE has created a colouring sheet that can be coloured in by children and adults alike and displayed in windows to say #ThankyouNHS.
ELMORE wants everyone to help him spread some cheer by downloading their free colouring sheet here -https://elht.nhs.uk/charity/elmore to show their love, support and thanks to our NHS staff. We would love to see the images of your completed designs once your children (or you!) have decorated. They can be shared with us by emailing fundraising@elht.nhs.uk or tagging us @ELHTandMe on social media.
For more ways that you can support your local hospital charity please visit ELHT&Me.
Coronavirus - Covid 19
Free School Meals - 2nd April 2020
The Government have now launched a national voucher scheme to provide support to families whose children are eligible for a Free School Meal.
All eligible families will receive a text message today if they are entitled to receive a £15 weekly food voucher.
If you have received a text message and you would to receive this voucher please email the school office with your full name and child's name.
Vouchers can be redeemed via email only. If you do not have an email address, you can collect a packed lunch from the school office.
A £15 voucher code will be emailed to you weekly and can be redeemed in a number of supermarkets.
Vouchers will begin being issued the week beginning 20/04.
.
Home Learning update for Easter
We are so impressed with all the learning that has been happening at home. We have loved seeing your work, pictures and videos. As we are coming up to the Easter holidays, learning will be slightly different. Class teachers will be adding an Easter grid to the website tomorrow which will include lots of activities that you can do with your child over the next 2 weeks.
They will then be busy over the Easter holidays developing and planning new home learning ready for you to access again online on Monday 20th April.
Longshaw Infant School is now a Hub School for the children of
Longshaw Nursery and Longshaw Junior School.
Please note we are following Government guidelines:
We ask that parents keep their children at home wherever possible, and therefore we remain open only for those children of workers critical to the COVID-19 response or for those who absolutely need to attend.
Longshaw Junior School pupils should enter the school from the Year 2 door on the main playground. Children from the Infant School and the Nursery will continue to enter the school through the main office.
School will open for all pupils at 8.30am and close for Infants at 3.10pm and for Juniors at 3.20pm
The breakfast club will no longer be operating due to staffing limitations so please do not arrive before 8.30am.
Whilst school remains closed for the majority of children through these difficult times we are still posting learning daily on the class pages.
Blackburn with Darwen Council have now launched the 'Help Hub' which may be useful for families. This hub is available on the council's website - www.blackburn.gov.uk. You will find the link to the Help Hub at the top of the page.
If you, or someone you know, needs vital support while isolating at home during the Coronavirus outbreak, fill in the online Help Hub form.
The Help Hub can provide a range of support – from organising deliveries of essential supplies, and providing information and advice, to weekly telephone calls to help keep people's spirits up during periods of isolation.
Monday 23rd March 2020
PLEASE NOTE - LONGSHAW INFANT SCHOOL IS NOW CLOSED TO PUPILS IN ACCORDANCE WITH GOVERNMENT GUIDELINES
Only families who have been contacted should bring their children to school.
If you think you are eligible for a free school meal during this closure please contact the school by telephone or email
office@longshawinfant.blackburn.sch.uk
01254 260534
We will upload new learning for all pupils regularly and would ask you to ensure that your children complete this with them over the forthcoming weeks.
I would like to thank you for your support with the changes that have had to be made during this crisis. Please keep safe and check here regularly. I shall post any information that I receive on here.
Best wishes - Mrs A H Batley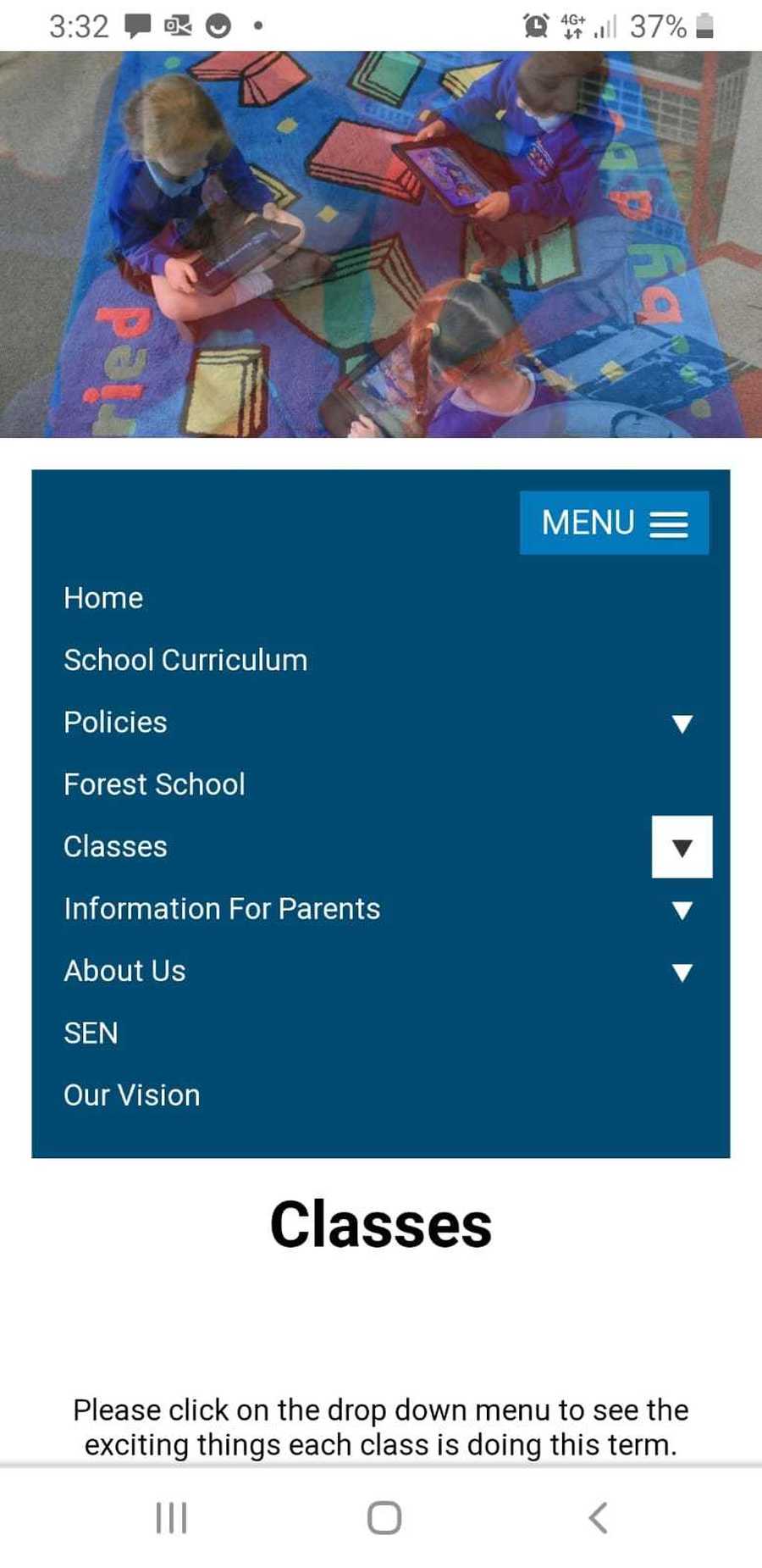 Home Learning is being uploaded weekly to the website to children's class pages. If you are trying to access this on a mobile you will need to click the menu button and then click on the drop down arrow next to 'classes'. Then select your child's class and you will be able to access the home learning.
Please see above picture.
Friday 20th March 2020
Key Worker List
Health and social care
Frontline health and social care staff such as doctors, nurses, midwives, paramedics, as well as support and specialist staff in the health and social care sector. In addition it includes those working in supply chains including producers and distributors of medicines and personal protective equipment.
Education and childcare
Nursery, teaching staff and social workers.
Key public services
Those required to run the justice system, religious staff, as well as those responsible for managing the deceased, and journalists providing public service broadcasting.
Local and national government
Administrative occupations essential to the effective delivery of the Covid-19 response or delivering essential public services, including payment of benefits.
Food and other necessary goods
Those involved in the production, processing, distribution, sale and delivery of food.
Public safety and national security
Police, support staff, Ministry of Defence civilian staff and armed forces personnel, fire and rescue staff, and those responsible for border security, prisons and probation.
Transport
Those who will keep air, water, road and rail passenger and freight transport modes operating during the Covid-19 response.
Utilities, communication and financial services
Staff required to keep oil, gas, electricity, water and sewerage operations running. Staff in the civil nuclear, chemical and telecommunications sectors. Those in postal services and those working to provide essential financial services.
If you work in one of these roles and believe your child needs to be in school please contact us by 5pm today to let us know, giving details of your role and employer.
Please note that only one parent or carer needs to be a key worker for your child to be offered a place in school from next week.
Wednesday 18th March 2020
Dear Parents/Carers,
We have now uploaded onto the website some learning for each year group and class.
You can access this through your child's class pages. There will be maths, English and wider curriculum activities including reading, science and art. If your child is at home please ensure that they carry out activities daily. There are online resources and also print at home work. We are not currently asking children in school to carry out homework activities, as they can also access this learning online. We will send home login details for the different websites tonight for the children in school. If you are already self-isolating please contact the school office for these login details. This information will include full instructions regarding logging on to the different websites.
We will be changing the learning constantly for the children to ensure that there is always something new for them to learn.
I hope you and your families remain well and please be assured that I will be in contact again as soon as I have any further information to share with you.
Kind regards,
Mrs A H Batley
Headteacher
Tuesday 17th March 2020
You will be aware the government has issued further advice regarding COVID 19. This information was shared via a press conference on Monday 16th March. I have enclosed the details for your information.
New Guidance to Educational settings states - This is available on the Gov.uk site:
Staff, young people and children should stay at home if they are unwell with a new, continuous cough or a high temperature to avoid spreading infection to others. This should now be for fourteen days.

If staff, young people or children become unwell on site with a new, continuous cough or a high temperature they should be sent home.

To continue to clean and disinfect regularly touched objects and surfaces more often than usual using your standard cleaning products.

Continue to supervise young children to ensure they wash their hands for 20 seconds more often than usual with soap and water or hand sanitiser and catch coughs and sneezes in tissues.

Unless we have been directly advised to close by the local Public Health England Health Protection Team, the government recommend all education settings remain open at this point.
We are fulfilling all the above messages at Longshaw and would ask that you monitor your children closely in order to ensure that they are not sent in to school if you suspect any illness.
Main messages regarding staying at home: Guidance for households with possible Coronavirus infection are - This is available on the Gov.uk site:
If you live with others and you or one of them have symptoms of coronavirus, then all household members must stay at home and not leave the house for 14 days. The 14-day period starts from the day when the first person in the house became ill

It is likely that people living within a household will infect each other or be infected already. Staying at home for 14 days will greatly reduce the overall amount of infection the household could pass on to others in the community

For anyone in the household who starts displaying symptoms, they need to stay at home for a further 7 days from when the symptoms appeared, regardless of what day they are on in the original 14 day isolation period.

If you have coronavirus symptoms:
Do not go to a GP surgery, pharmacy or hospital
You do not need to contact 111 to tell them you're staying at home
Testing for coronavirus is not needed if you're staying at home
If you feel you cannot cope with your symptoms at home, or your condition gets worse, or your symptoms do not get better after 7 days, then use the NHS 111 online coronavirus service. If you do not have internet access, call NHS 111. For a medical emergency dial 999
As a school we continue to promote good hand and respiratory hygiene with our pupils:
Frequent hand washing with soap and water for at least 20 seconds

Catch coughs or sneezes with a tissue, throw the tissue in the bin and wash hands

Provide adequate supplies for good hygiene, including clean and functional

hand washing

stations, soap, paper towels, and alcohol‐based hand sanitiser
We aim to keep Longshaw Infant School open unless directed otherwise by the Local Authority or the Government. Please contact us if we can give any further advice or support.
Kind regards,
Mrs A H Batley
Headteacher
Monday 16th March 2020
We are without doubt in unprecedented times and I know that we are all worried about what is ahead of us. All information seems to point to a number of very difficult weeks and months where our sense of the 'norm' is going to be challenged. I am just hoping that we will swiftly reach the peak of this challenge and see sunshine on the other side.
Until then, as you know, we will aim to provide a sense of calm and positivity in school. We are taking time to adapt our curriculum to include information about caring for others, staying healthy, developing resilience and having fun. We recognise that there is much to worry about in the world currently and we want to ensure that school is a stress free place to be.
We are receiving regular guidance off Public Health England and Blackburn with Darwen Education Department and will inform parents of any changes to our current policy which was detailed in the letter I sent out on Friday and have attached below.
In order to limit the risks further we are asking that parents do not arrive for Breakfast Club before 8am as the door will not be opened early. We will also be cancelling family Friday and family assembly over the next few weeks.
Our advice remains the same as the Government have directed. Should your child experience any symptoms including continuous cough or high temperature please keep them at home for 7 days from when the symptoms start. Some families have taken the decision to isolate children with underlying health issues and we are supporting them with these decisions.
We understand this is a stressful time for all, and everyone must consider their own personal circumstances. School will do its best to support where we are able. We wish everyone good health and plenty of resilience!
Friday 13th March 2020
Dear Parent/Carer,
We have received further government guidance about the measures schools should take in response to the coronavirus outbreak today. The guidance reminds us to encourage children to wash hands at appropriate times of the day and to use tissues when coughing and sneezing. This is something that we are teaching all children to do in school.
Please note that all children are expected to attend school every day unless they are experiencing symptoms of the virus:
A new, persistent cough and /or

A temperature of 38.7C (100F) or higher.
Only if your child is experiencing such symptoms they should stay at home for 7 days. During this period parents and carers should seek advice by calling NHS 111. After 7 days, if he/she no longer shows symptoms your child should return to school as normal.
If parents and carers themselves are experiencing the symptoms described above, they should not come into school and should follow the guidance on self-isolation available on the following website: https://www.nhs.uk/conditions/coronavirus-covid-19/
This advice is under constant review. Should it change, we will of course keep you informed.
Kind Regards,
Mrs A H Batley
Headteacher
Our vision is to foster a love of lifelong learning and give every child the opportunity to develop socially, academically, creatively, spiritually and emotionally. We will provide a broad, balanced and rich curriculum which will challenge children's thinking, encourage them to care for others and inspire them to fulfil their individual potential in order to achieve success.
Ofsted
October 2018
LONGSHAW COMMUNITY INFANT SCHOOL
IS OFFICIALLY A VERY GOOD SCHOOL.
The inspector celebrated that…
The school is a beacon of hope and care for children and families in the community
The Headteacher, Governors and senior leaders have an accurate view of the effectiveness of the school
We have created a warm and welcoming school environment
The behaviour of the pupils continues to be a strength
Pupils treat each other with respect
Parents said 'Teachers do their best to make all children feel special, to see their value and purpose irrespective of their backgrounds
The school gives high priority to the social and emotional needs of the pupils
The environment is bright and stimulating
Teachers celebrate the work of the pupils across the school
The standard of art work around the school is excellent and pupils utilise skills that only those well beyond their age would normally have
The curriculum is enriched with trips and additional experiences
The pupils are taught to understand the wider aspects of British society through visits to synagogues, mosques and churches
Pupils benefit from expert teaching in art, music and physical education
They explore learning through many different lunchtime and after-school clubs
Pupils are actively encouraged to solve problems and take risks whilst developing language skills in regular outdoor learning sessions
Pupil premium funding is carefully spent so that disadvantaged pupils make progress in line with that of all other pupils
LATEST NEWS
Parking
Since returning to school in September, we have had a lot of problems with cars parked on the Zig-Zags on both Pilmuir Road and Crosby Road.
If you are a Parent please can you ensure that you are not parked dangerously and not on the Zig-Zags. Please park in a safe place, and walk a short distance to school if necessary.
If you travel to school using a taxi, please ensure your driver does not drop you off on the Zig-Zags.
If any Parents/Carers witness taxis parked on the Zig-Zags please take a picture of their driver number and registration plate and report them using the following number - 01254 585585.
Enforcement Officers have been visiting school and will continue to do so at various points throughout the year. They have been issuing drivers with fines and will continue to do so.
Please help us to keep your children safe