Longshaw Community Infant School
Learning, Caring, Inspiring, Succeeding
Please note that all school updates will be placed on the front webpage during 2020-2021
Please contact Mrs J leak at school if you have any queries or need further information about Longshaw Community Infant School.
5th September 2019
Dear Parents and Carers
Welcome back to a new year at Longshaw. We have been in school for 2 days now and it is a joy to be back. Ninety children have joined us in Reception Classes and they are, without doubt, the most settled children I have ever seen in such a short space of time. Their new teachers are enjoying every moment and looking forward to being impressed even more over the next few weeks! The other children in school have moved year groups, classrooms and teachers and have settled instantly! Their smiles tell me that they cannot wait for the challenges ahead!
As always at Longshaw we have a busy year ahead. Our first newsletter will go out on Friday with the diary dates for the year, there are a few changes this year so please look at the dates carefully. Family Assemblies will still take place on the first Friday of most months and all parents are invited to them. Each class will perform their class assembly on a specific date during the family assembly so please ensure you check the date for the class your child is in - these are special moments and I wouldn't want you to miss them!
Family Golden Time will take place on the last Friday of most months and this is a wonderful opportunity for you to join in with some of the fun activities which take place in school. Due to the popularity of this we must insist on only one adult per child and no preschool children attend - we simply do not have the space for everyone!
There will be a greater number of after-school clubs taking place this year, as we have our Funda Coach in school daily. Please encourage your child to join in one of the clubs, either at lunch time or after school as it helps them develop their personal, emotional and social skills. Our wonderful teachers will also be offering extra-curricular clubs in school over the course of the year - a full list will be on the website for you to look at once everything has been finalised.
There will also be a number of parental workshops taking place over the next few weeks. These are planned to inform parents about how they can help their children with learning out of school. They will focus on reading, phonics, mathematics, writing and safety when using a computer. Please try to attend the sessions as they are really informative and will answer many of the questions that you may have about your child's learning in their new year group.
The last thing I will mention is school attendance. It is the one area which I am finding the hardest to improve in the school. I cannot emphasise how important it is for your child to be in school, on-time daily. The learning starts at 9am everyday and it builds progressively over the week so children who arrive 2,3,5 or 10 minutes late miss the lesson beginning and this impacts upon their confidence with learning. Children who miss odd days during the weeks find it harder to link up the learning over time.
We have over 250 young children in school and we fully recognise that young children develop illnesses however please do not keep them off school for a slight cough, cold or tummy ache. I can assure you that if they are too unwell to be in school I will ring you to pick them up however we often find that children with slight ailments in the early morning are fine by 9.15am and bouncing around the classroom by 9.30!
Please help us with this by bringing your child to Early Birds at 8.30am, so they have chance to play, sing or dance before the day starts and by only keeping them off school for illness when absolutely necessary.
Kind regards
Mrs. Batley
6th January 2019
Happy New Year.
I hope all of our families have had a lovely Christmas and are looking forward to a Happy New Year. We have lots of things planned for the Spring Term at Longshaw including hatching, caring for and releasing trout into the river Darwen! There will be parenting classes running, parent's evenings, family assemblies and golden times.
We constantly look for ways to involve parents in life at the school so if you think you would like to join the Governing Body at Longshaw or maybe help us with the school allotments please contact me.
At Longshaw we continuously look for ways to improve the education we offer our children. We will be working with the Prince's Teaching Institute this year to look at our school curriculum. We will be using the local area to teach children geographical skills and teach them about historical enquiry by looking at events that happened in Blackburn in the past. We will also be looking at how we can use resources at the hospital to inspire children with science and technology. The local police will be showing children how they use technology in their jobs and we will continue to use twitter and other software to link our classrooms to the wider world. We want to encourage children to think about the opportunities education can offer them for their future and will therefore be inviting people in to speak to our Year 2 pupils about jobs in the future. Last time we did this we had a visit from the local MP Jack Straw - who knows who will arrive in school this year!
I would like to take this opportunity to thank all of the parents who ensure that their children arrive on time to school. Unfortunately we only had 45 out of 240 children in the prize drawer for the bike at the end of Autumn Term. That means that only 45 children had been in school, on time, every day. We recognise that young children often get illnesses in their first years at school and therefore cannot have 100% attendance however we do have an issue with late arrivals. Children at the Infant School rely on parents to bring them everyday and often parents tell us that they are late due to issues with taxis arriving late. School opens at 8.30 am for all pupils therefore a taxi booked for that time will get them in before 9 am even if it is running late!
Please help us to improve our children's attendance this term by getting our children to school bright and early!
I shall look forward to welcoming everyone back tomorrow.
Kind regard
Mrs Batley
17th October 2018
Dear Parents
Our recent inspection report has now been published and we can share the wonderful outcomes with all of the parents and carers of children at our school. We are very pleased with the outcomes of the inspection but also a little disappointed as, since our last inspection, things have changed at Ofsted and they no longer give Outstanding judgements following one day inspections.
HOWEVER… Her Majesty's Inspector has found that the school remains 'GOOD' but that we have demonstrated 'strong practice and marked improvement in specific areas' which means that he felt that the school provides excellent provision and could therefore be moving towards being Outstanding. This also means that the next inspection will be over two days to enable them to see all the wonderful things that we do in our classrooms and hopefully change the outcome to Outstanding.
The report's findings are listed below:-
LONGSHAW COMMUNITY INFANT SCHOOL
IS OFFICIALLY A VERY GOOD SCHOOL.
The inspector celebrated that…
The school is a beacon of hope and care for children and families in the community
The Headteacher, Governors and senior leaders have an accurate view of the effectiveness of the school
We have created a warm and welcoming school environment
The behaviour of the pupils continues to be a strength
Pupils treat each other with respect
Parents said 'Teachers do their best to make all children feel special, to see their value and purpose irrespective of their backgrounds
The school gives high priority to the social and emotional needs of the pupils
The environment is bright and stimulating
Teachers celebrate the work of the pupils across the school
The standard of art work around the school is excellent and pupils utilise skills that only those well beyond their age would normally have
The curriculum is enriched with trips and additional experiences
The pupils are taught to understand the wider aspects of British society through visits to synagogues, mosques and churches
Pupils benefit from expert teaching in art, music and physical education
They explore learning through many different lunchtime and after-school clubs
Pupils are actively encouraged to solve problems and take risks whilst developing language skills in regular outdoor learning sessions
Pupil premium funding is carefully spent so that disadvantaged pupils make progress in line with that of all other pupils
Writing
The report also says that Ofsted had asked the school to improve writing in an earlier inspection. The inspector now found that there has been a tremendous improvement in this area and that pupils make strong progress in writing from low starting points.
Oracy
The inspector commented on the fact that some pupils enter into school with poor language and vocabulary skills however the support they are given to develop these areas ensure that they make excellent progress.
Safeguarding
It was recognised that the school works rigorously to ensure safeguarding of pupils is highly effective and that we work with a number of outside agencies to support families having difficulties.
Early Years Provision
It was recognised that pupils in the Foundation Stage of schooling achieve higher that the national average. This was attributed to the way the curriculum has been structured in Reception classes and how it is now a well-ordered learning environment. Teaching Assistants were recognised for the help that they give to pupils and that behaviour is strong, which enables the children to make strong progress from low starting points.
Phonics
The rise in the number of pupils achieving the expected standard in the phonics screening check was recognised and the impact that this has upon the children's written work.
Attendance
Thankfully, the Ofsted inspector recognised that attendance had started to improve at the end of 2018. However, despite all our efforts, it remains below national average and the rates of persistent absence are too high. It was recognised that pupils want to come to school however they are dependent upon parents bringing them and a small number of families are persistently late.
As this was a short inspection there is not a complete report, just a letter which is available on the school website or by logging into the Ofsted website http://www.ofsted.gov.uk
This letter however does highlight the next steps for the school which would usually include some reference to the curriculum, learning, behaviour or a specific subject such as writing. As the inspection was so positive in all of these areas there were no 'next steps' found for these areas and only one was highlighted.
Next steps for the school
Leaders and those responsible for governance should ensure that:
They continue in their relentless efforts to improve further the overall school attendance and reduce rates of persistent absence.
This is a difficult one for us to achieve on our own and we will need all the families of children in the school to help us with this. Please ensure that you bring your children to school every day and that they are on time. This will then support us in finally achieving the'Outstanding' badge that we deserve.
Kind regards
Mrs A H Batley
16th September 2018
Dear Parents
Welcome to 2018-2019 at Longshaw.
The year has started well with all the children settled into their new classes and enjoying the new challenges they are facing. We are especially pleased with how well most of the Reception children have settled – many of them are already attending Early Birds or Breakfast Club!
We have a number of meetings this term for parents. There will be meetings for Reception Parents, where the process of teaching phonics and reading skills will be explained. Also a KS1 meeting which outlines the changes for the pupils in phonics, maths and reading as they move through the school. We hold these meetings at the beginning and end of the day to support parents with attending, as these meetings will give information which will help you to support your child with their learning at home. We will also be holding an E-Safety information meeting for all parents. This is a very informative and important meeting to attend, as our children face many risks online and parents will be advised about how to keep them safe in the online world.
We have our first Family Assembly and Family Friday in October and these will continue to run on the first and last Fridays of the month throughout the year. It is always wonderful to see so many of you in school.
We also have Parent's Evenings in November, where we will share information about how well your children have settled and what their targets are for the year ahead. We will use the online booking system again so remember to look out for the information letter.
Before we know it we will be at Christmas again! We will be taking our little ones to Blackburn Cathedral again to perform their Nativity Tableau and both Year 1 and Year 2 will be performing their own versions of the Christmas Story. These are always moments to treasure in your children's lives and I am always impressed by the courage and talent that our children have.
As usual we will be sending Newsletters out each fortnight and sending texts and updates regarding various different events. Please remember to check your child's book bag each evening so that you are well informed about what is looking like a busy term ahead!
Best wishes – Mrs A H Batley
12th June 2018
Welcome to our new site! We are really pleased with it so hope that you like it too.
We are hoping that we have ironed out all the glitches prior to going 'live' however please do contact us if you find any parts that you cannot access or any information that you cannot find easily. We aim to include as much as we can on here to support you with information about the school.
I shall be including updates on here termly but as you can see on the main page of the website we now have a Twitter account! Please look on there for the exciting events happening in school each week.
I shall include more information about the last weeks of the summer term soon.
Kind regards
Mrs A H Batley
April 3rd 2018
Spring Term is over and Summer Term is well under way! Spring Term was one of the shortest terms we have had in recent years with only ten weeks, but oh my goodness it was eventful! We had two days of snow which made the roads around the school impassable, followed by the school boiler staging a protest and refusing to work on the coldest day of the year! The result of this was school closing for three days during the term. This is always an incredibly difficult decision to make and I would like to thank parents and carers for their understanding. On both of the snowy days all staff made attempts to get to work or rang me promptly to say that they could not get to school for 9am. The numbers of staff that couldn't get there, along with an assessment of how dangerous the roads were around the school, meant that we could not open safely for pupils. The closures were agreed with both the Junior and the Nursery schools to ensure that all parents were informed promptly.
But what did we get up to on the days we were here? Well... we took the children to Clitheroe Castle, Waddow Outdoor Centre, Jaame Masjid Mosque and Blackburn Cathedral. We held two parent evenings, a Science Day; where parents were invited in to carry out experiments, World Book Day; where we dressed as characters and we visited church for Easter. Parents came into school to eat at an American Diner, a pizza restaurant and a noodle bar in Year one, visited a 'bug museum' in Reception, and came to three family assemblies, three family golden times and an Easter Craft afternoon! Alongside all of this we maintained our focus on ensuring that every child fulfils their potential in reading, writing and maths!
Towards the end of the term we carried out mid-year assessments and we are expecting outcomes to be strong again this year.
We will have a slight change to staffing following the Easter holidays as Miss Pettman has become Mrs Morgan! I am sure that you will join us in wishing her well on her marriage. Ms Hibbert will also begin her maternity leave in the summer term. Mrs Whittaker will join us to teach Sycamore class from May to the end of the year.
I would also like to inform you that I have been asked to become a Local Leader for Education in Blackburn. This will enable me to work with other schools in the area and will inform my leadership further. I am sure that this will be a great support for the work in our school and enable our team in school to take Longshaw to even greater heights.
Roll on sunshine in the summer term!
Kind regards
Mrs A H Batley
January 9th 2018
Dear Parents/Carers
Welcome to 2018! I hope you all had a wonderful break. We are already back in full swing at Longshaw with many exciting events planned for the forthcoming term.
We finished the last year with the wonderful Christmas performances and a visit to Blackburn Cathedral with our youngest pupils. I'm sure you will agree that the children were superb and that they really shared the spirit of Christmas with everyone beautifully.
This term will bring a visit to Clitheroe Castle for Year 2, Science Week across school and World Book Day amongst other exciting events. We will continue to welcome parents in to the Family Assemblies at the start of the month and the Family Friday's at the end and hope to see many of you there.
We gave out 58 attendance stars at the end of December and hope to give out many more at the end of Spring Term. Please ensure that your child arrives at school on time every day to support their learning. It is vitally important that children are in school for 9am and we hope to help with this by opening the doors at 8.30 for Early Birds Club.
Newsletters will continue to be sent home and posted on the website each week. Please ensure that you check them for details and they will contain up to date information about events in school.
I wish you all the best for the new year and look forward to seeing you over the course of the term.
Kind regards
Mrs A H Batley
September 8th 2017
Dear Parents/Carers,


Welcome back to Longshaw to all the families of our children. It was a joy on Monday to see so many children skipping into school. We have 90 new children in our Reception classes and they already look settled and happy.
We have a busy year ahead of us and all the staff are looking forward to many exciting events however the focus for the first few weeks we will be establishing routines and embedding our high expectations. Please ensure that they get off to the best start each day by arriving in school on time. Remember the school doors open at 8.30 for Early Birds Club. This is for all children and they can start their day with music, games and sport. We do ask that Reception children wait until week 3 before coming to Early Birds or until they are settled into school, however please come and speak to me if you would like your child to start earlier.
There is a lot of information on the newsletter this week. If you need further explanations about any of it please do come into school and speak to me. There are also a lot of dates in the diary already. We do aim to keep to these dates however some do need changing as the year progresses. We will notify you if this happens. The first Family Golden Time is on 20th October due to parent meetings at the end of September and the first Family Assembly is on 6th October at 9am with Chestnut Class leading it. I will look forward to seeing you then.
Kind regards
Mrs AH Batley
Dear Parents and Carers,
Well we have finally reached the last day of the term after a very busy week! I am always amazed at how much we fit into a week at Longshaw however we have surpassed ourselves in the last four days! We started the week with a transition morning and the children once again worked in their new classes – they are all now happy and familiar with their new teachers. On Tuesday we had a wonderful sports day. Thank you for supporting us so well. The children had a great day. We intended to have a race for adults but the heat of the afternoon meant that we had to take the children inside a little earlier than planned – maybe next year! We then had the Year 2 Leaving Assembly on Wednesday. It was truly wonderful to see the children's confidence shine through. It was one of the most emotional assemblies I have ever seen and I am so proud to see how far these children have come. I wish them great success at the Juniors and will look forward to seeing their achievements in future years. Today is the last day of school for this year and we have had a wonderful attendance assembly, with awards for many children.
I would like to take this opportunity to thank you for the wonderful comments received on the questionnaires. They are overwhelmingly positive and it is lovely that parents and carers are so supportive. It is truly a joy to be the Headteacher of such a wonderful school.
I wish you all well for the summer and hope that the sun shines on us all and that we return refreshed in September.
Best Wishes – Mrs A H Batley
Dear Parents/Carers,
Welcome back to the summer term at Longshaw (although it hasn't felt very summery this week!)
There are a number of reminders on the newsletter regarding the upcoming May Fair and the Reception school trip – please help us out in any way that you can.
Please also support us with keeping the children safe by not parking dangerously around school. I have had a number of parents/carers registering concerns this week and have therefore asked for help from BwD Parking Attendants. Please could I ask that you record any car registrations of vehicles that park illegally and report them to the local police. Hopefully this way we will resolve this difficult issue.
Best wishes - Mrs A H Batley
Dear Parents and Carers
Well we have reached the end of another very busy and happy term. We have had Christmas performances, Carol Services, singing around the Christmas tree, Christmas lunch, Reception's beautiful Nativity at the Cathedral, Glitter Friday and even a visit from Santa… and that was just the last two weeks!
I would like to take this opportunity to thank you for all of your continued support and for the lovely cards and gifts. I would also like to thank all the staff at the school for their dedication and commitment to Longshaw and of course to thank all of our children for being so wonderful.
I am blessed to be the Headteacher of such a wonderful school and every day this week has reminded me of the joy of Christmas. I hope you all have a happy Christmas and a peaceful New Year. I shall look forward to hearing about the excitement when we return to school on January 4th 2017.
Merry Christmas ~ Mrs Batley
20th September 2016
Dear Parents / Carers
Welcome back to Longshaw. The school year is now in full swing and the children have all returned happy and excited to be back.
We have welcomed 78 children into our Reception classes and they have settled in well. They are growing in confidence daily and are enjoying school life. Mrs Foy, Miss Miller and Miss Oxendale are enjoying getting to know them and when I go down into their classes they are eager to tell me about the exciting learning taking place.
Year 1 and Year 2 have all returned with smiles! They love their new classes and teachers and without doubt will face the challenges of their new curriculums with enthusiasm and enjoyment.
We have a few changes in the curriculum this year as we have introduced Philosophy for Children, or P4C, into the school week. These are timetabled sessions where children are encouraged to explore their ideas about different concepts in the world. P4C is a way of developing children's ability to become better thinkers, and at the same time has a profound ability to make children more co- operative, creative, tolerant and respectful of differing viewpoints. It leads children to be able to challenge, question and alter their opinions and ideas as a result of clear thinking and exploration of ideas. The P4C sessions are also a chance for children to develop oracy skills. They are encouraged to discuss their thinking in clear sentences and to be aware of the audience. Listening skills are also developed in these sessions.
Thank you to the parents who have attended the meetings this week regarding new year group expectations and how you can help with your child's learning journey. These meetings always contain a lot of information and if you need further explanations please speak with your class teacher.
The diary of events for the year ahead has gone home now (and has already had a few alterations!) I hope to see you in school over the year ahead, there are many opportunities and you are all welcome.
Kind regards
Mrs A H Batley
9th August 2016
Dear Parents and Carers
I hope that you are enjoying the summer break. I cannot quite believe that we are in the second week of the holidays already!
The last week of the term flew by in a blur for me with transition classes, Year 2s leaving assembly, the fantastic sports day and the attendance awards.
It was wonderful to see the children's growing confidence as they visited their new classrooms for the final time that term, knowing that they would be spending next year in them. The work all of the staff do to make transition easier and to develop children's confidence as they move through school really pays off in that last week and in September. The children could see that they are ready for the next stage of their journey.
Year 2 once again filled me with great pride and a little sadness. They have been a fantastic year group filled with kind, caring children who everyone is proud to know. They put on a wonderful assembly complete with our own 'Ant and Dec' who without doubt have a career on the stage waiting for them. It is always lovely to see how these children have grown in confidence through their years at Longshaw. Whilst I am sad that they will not be with us in September I know that they will thrive as them move to their next school and without doubt Longshaw will always be a part of them. Thank you so much to the families that have let us educate their children. I am sure that you are all so proud of them too.
I would also like to say a big thank you to all the parents and carers that supported the Sports Day. Unfortunately I had a meeting that I had to attend and couldn't be at school on the one occasion that the sun shone for Sports Day! I was thrilled however on my return to meet so many people saying how great it had been. I shall manage my diary more carefully in the future as all reports said it was a wonderful occasion and I would love to see the parent's race next year!
We finished the term with the Attendance, Achievement and Attitude Awards. This is a super opportunity to celebrate the wider success of individuals within the school. Teachers awarded just two pupils within their class for fantastic achievement academically, having a wonderful attitude to school in general or for having 100% attendance and being on time every day. A full list of winners was published on the newsletter, certificates and badges were given out and parents will have received a letter congratulating them on their child's success. I hope that you agree that this has become an important aspect of creating pride in our children, inspiring them to achieve and instilling in them the importance of getting to school on time every day.
This was also the final assembly for some important members of our staff who have moved on to different jobs this summer. Mrs Glynn and Mrs Green have worked alongside many families in the school for a number of years now and will be sadly missed. Mrs Low has also moved house this summer and will not be back with us in September. They are all however excited about their new career prospects and have promised to call in and visit us if time or distance allows for it. We wish them all well for their futures
I would like to take this opportunity to thank all of the parents who took the time to fill in the questionnaires at the end of term. I shall be analysing the responses this summer and will identify ways to make our school even better with your support. I shall send out feedback from them in the new school year.
Thank you also for the wonderful gifts, cards and flowers that many families gave me at the end of term. There is rarely a day goes by that I don't feel blessed that I am the Headteacher at Longshaw and the kind words that many of you expressed about the school and the staff filled me with joy at the end of a long and tiring term. Thank you for your kindness.
I hope you all have a restful and relaxing break this summer and I shall look forward to seeing you all again in September.
Kind regards
Mrs AH Batley
6th June 2016
Dear Parents/Carers
Welcome back to the last term of the school year. It was lovely to see the children returning to school this morning with beaming smiles as the sun shone. Hopefully this will continue for the next few weeks.
I am thrilled to inform you about a wonderful piece of news that the school received just before half term. Mrs Gerrard has been our specialist teacher of reading within the school for a number of years now. In 2014 she received a runner's up prize for Teacher of the Year from the Institute of Education in London. This year she has been nominated again and has won the first prize and has now been acknowledged as Reading Recovery Teacher of the Year 2016 by the Institute of Education. I know that you will all join us at the school in congratulating her on this wonderful achievement. It is gratifying that her talent, patience and skill has been recognised nationally.
At Longshaw we know that teaching children to read gives them greater opportunities in life and we are proud that all of our children make great progress with these skills and develop a love of books. Mrs Gerrard is central to this and shares her expertise with all the staff in school. She will be travelling to London on Friday to collect her award and we shall put photographs on the website next week.
This term will be busy as usual! We have class assemblies to look forward to, our new children visiting school for the first time, Year 2 visiting the Junior School, trips out to Lytham St Anne's and meetings with next year's teachers.
Please check the diary dates sent out at the end of last term to ensure that you don't miss any of the fun!
I shall be sending regular updates on newsletters as the term progresses.
Kind regards
Mrs A H Batley
22.4.16
Welcome back to the Summer Term. I hope that you have all had a lovely break and that your children are excited about returning to school.
Thankfully I can now report that the building work is almost completed! It feels to have been a long slog however it will be worth it to see the children in Oak Class as they return to school and move into their brand new classroom. It looks great both inside and outside the classroom however there is still a large amount of work to do around the school grounds, so all is not quite over just yet!
The term ahead is already looking busy with Reception visits to Blackpool Zoo, Year 2 recycling day, Year 1 visits to Eureka, the Mini-Sing at King George's Hall and the May Fair all planned! Please keep checking your children's bags for newsletters and information sheets.
I shall enclose an updated diary of events on the website and in a newsletter next week to ensure that everyone is informed about things that are happening this term.
I shall look forward to seeing everyone on their return on Monday.
Kind regards ~ Mrs A H Batley
Awards Assembly
Parents and Carers already know that we hold a prize draw for a bicycle each term, instead of just at the end of the school year. In order to be entered into the prize draw children have to have attended school and been on time every day of the term. The children who are not lucky enough to win the bicycle are awarded a star badge for their attendance. This is bronze for one term of full attendance, silver for two terms and gold for three terms. We know that these badges encourage both parents and children to try and attend school every day.
We had another proud winner of a bike for having 100% attendance this term and being on time every day, what a happy girl she is! 33 other children also received Bronze Star badges and 29 children received Silver Star badges for their attendance this term.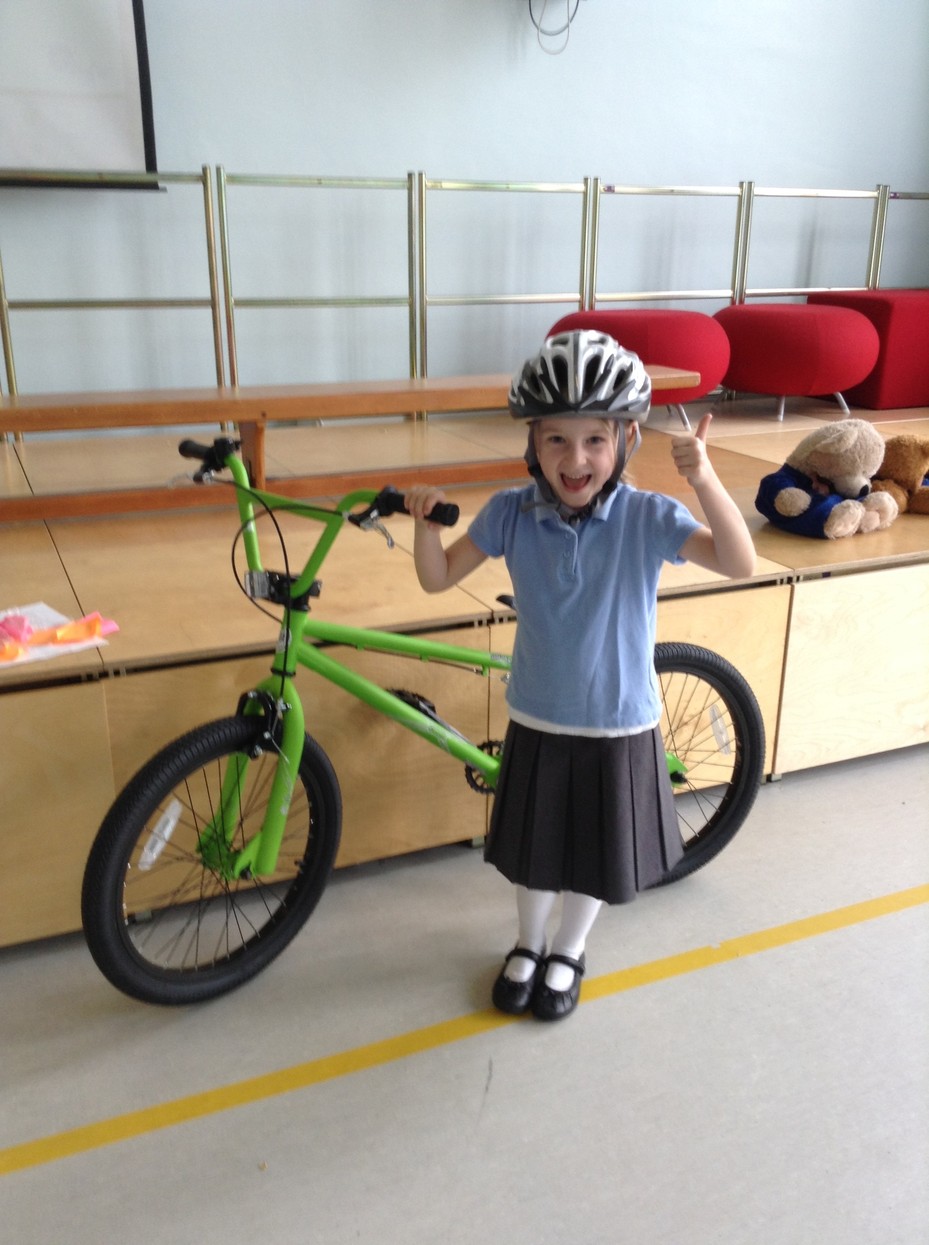 We also awarded children for outstanding attainment and for having an outstanding attitude to school life.
Children who received the outstanding attainment award have made exceptional progress over the spring term in one or more areas of the curriculum. They were nominated by their teacher and received a badge to wear, which shows others how well they are learning.
The winners of the outstanding attainment badges were:
Faizaan Munir, Leo Edmondson, Abbey-Leigh Holden, Tyler Robinson, Katie Holmes, Ryleigh Queen, Mckenzie Finnerty, Marcus Young and Brunilda Alija.
Children who received the outstanding attitude awards have shown kind, caring and considerate attitudes to others throughout the spring term. They are exceptional role models and encourage others to work hard, be kind and look after each other.
The winners of the outstanding attitude awards were:
Owen Tang, Billie-Jo Ainsworth, Dylan Casey, Kai Brown, Logan Hargreaves, Lilith Auld, Emme Barton, Lacey-May Riding and Callum Thompson.
Well done to all of these children – we are very proud of you!!
Dear Parents/Carers,
Welcome back after the half term. The mornings are finally starting to get lighter and we appear to be heading towards Spring. We have a busy term ahead of us with Parent Meetings next week, the annual Dance Festival at King George's Hall on Tuesday, Year 2's visit to Whitehough, Pat Southern Pearce, our resident Artist, working with the Reception children, a visit to Church for Easter and families invited into school to share in an Easter craft afternoon! All of that in the first few weeks!!
The new building is progressing well and looks to be on track for opening at Easter. It will be lovely to get the school grounds looking tidy again!
Please note the diary of events below:
| | |
| --- | --- |
| 22.2.2016 | 8.50am SCHOOL OPENS- Breakfast Club at 8am, Early Birds at 8.30am. |
| 26.2.2016 | 2.15-3pm Family Friday- All Year Groups |
| 29.2.2016 | Parents' Evening 3.30-5pm |
| 1.3.2016 | Dance Festival- King George's Hall |
| 2.3.2016 | Parents' Evening 5-7pm |
| 3.3.2016 | Year 2 Trip to Whitehough Outdoor Education Centre |
| 3.3.2016 | Reception Eye Tests |
| 4.3.2016 | 9am Family Assembly |
| 23.3.2016 | Easter Church Service 10am |
| 23.3.2016 | Family Easter Crafts 2.15-3pm |
| 23.3.2016 | 3.10pm SCHOOL CLOSES for Easter Weekend |
| 29.3.2016 | 8.50am SCHOOL OPENS Breakfast Club at 8am, Early Birds at 8.30am |
| 1.4.2016 | 9am Family Assembly |
| 7.4.2016 | Reception Eye Tests |
| 8.4.2016 | Attendance/ Awards Assembly |
| 8.4.2016 | 3.10pm SCHOOL CLOSES – Easter Holiday |
I would like to take this opportunity to thank you for your continued support this term.
Kind Regards
Mrs A H Batley
22nd February 2016
Well Spring Term is here, although the dark mornings and torrential rain seem to still put us firmly in winter! I hope that you all had a wonderful Christmas with your children; it was a wonderful last few weeks in school.
We are now however looking forward into 2016 and this year at Longshaw we are doing things a little differently!
Parents and Carers already know that we will be holding a prize draw for a bicycle each term now, instead of just at the end of the school year. In order to be entered into the prize draw children have to have attended school and been on time every day of the term. The children who are not lucky enough to win the bicycle will be awarded a star badge for their attendance. This will be bronze for one term of full attendance, silver for two terms and gold for three terms. We are hoping that these badges will encourage both parents and children to try and attend school every day.
The 52 children who received their badges in the attendance assembly were so proud and it was wonderful to see their bronze stars shining as they returned to school this morning.
Every child can receive one of these badges in Spring Term if they are in school and on time every day.
We are also now awarding children for outstanding attainment in curriculum areas and for having an outstanding attitude to school life.
Children who received the outstanding attainment award last term had made exceptional progress over the term in one or more areas of the curriculum. They were nominated by their teacher and received a badge to wear, which shows others how well they are learning.
They were Emily Williams, Filip Diakiewicz, Olivia Leonard, Harley Lord, Harvey Jones, Isabelle Richardson, Leo Marsden, Elliot Cassidy and Ethan Watson.
Children who received the outstanding attitude award had shown kind, caring and considerate attitudes to others throughout the term. They have been exceptional role models and encouraged others to work hard, be kind and to look after each other.
They were Evan Carver, Victoria Haggart, Leto McGhie, Lidia Enea, Kaiden McKenzie, Kenzzi Grubb, Jack Milburn, Carly Walsh and Maysa Elftesi.
These children received green and purple shield badges to wear on their jumpers every day and they came back to school this morning wearing them proudly.
The term ahead is full of many exciting events including class assemblies, trips out to castles and to go on train rides,